TOP HOTELS IN DISTRICT 1, HO CHI MINH CITY
In an increasingly accessible and modernized metropolis, Ho Chi Minh City's historic hotels like the Caravelle and the Continental, featured in films such as Indochine and The Quiet American, have sacrificed some of their colonial charm in order to attract a contemporary clientele. Nevertheless, from evocative façades to French-style rooms and legendary wartime bars, these 5 hotels still hold plenty of historic, cinematic and literary Saigon magic.
Beautiful Saigon III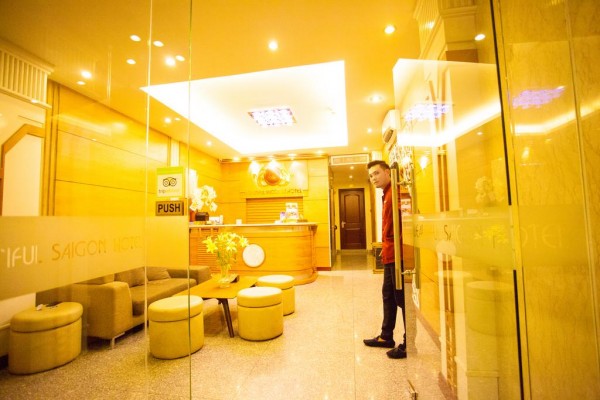 Just a few minutes walk from the famous Ben Thanh Market, the latest Beautiful Saigon III (only a few meters away from Beautiful Saigon II) is located in a quiet alley in the perpetually buzzing backpacker's district. It offers 18 rooms with reasonable prices, modern and understated, with spacious bathrooms — just make sure you pick one with a window and a bit higher up to enjoy the street feast and city views. Here, you're in the middle of the colorful and vibrant city life, with plenty of dining establishments and cafes to choose from, along with travel agents to help you organize your next thrilling Vietnamese tour. Otherwise, just ask the friendly staff, who always have a good recommendation up their sleeve.
40/27 Bui Vien St., District 1, Ho Chi Minh City, Vietnam, +(848) 39204874.
The Spring Hotel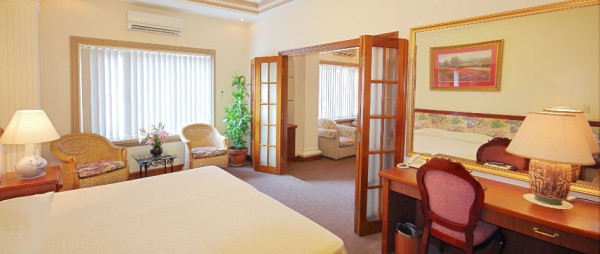 A few minutes walk from the famous city market and the major historic attractions of District 1, The Spring Hotel offers value-for-money accommodation with a splash of concentrated colonial glamour. The room decor is rather outdated, but there's a small atmospheric rooftop garden with great views, a good selection for breakfast, and friendly staff to make up for any losses (including the limited vegetarian choice in the menu). Nothing compares to the striking ambiance of the lobby, though, with a collection of flowers and indoor vegetation, wicker furniture, marble pillars, chandeliers and a grandiose staircase, which you will descend feeling like a king.
44-46 Le Thanh Ton St, District 1, Ho Chi Minh City, Vietnam, +(848) 38297362.
Rex Hotel Vietnam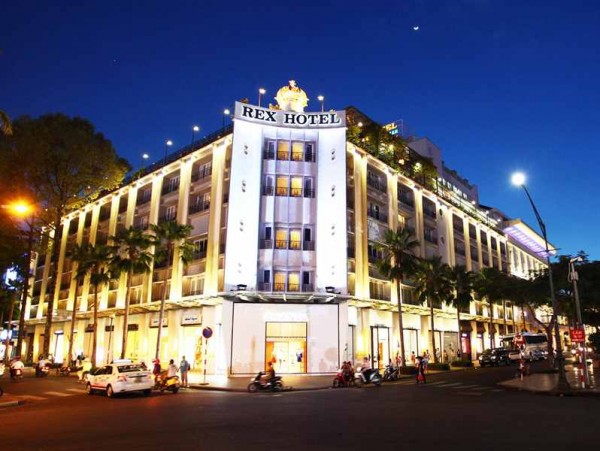 For over 80 years, this old French garage-turned-luxury hotel has been a silent chronicler of the city's trials and tribulations. The Rex was the legendary aesthetic backdrop to the so-called 'five o'clock follies', the press briefings that the American Information Service used to conduct for foreign correspondents during wartime. In the 60s, the Abraham Lincoln Library was also established on the ground floor. After suffering a bland phase as the Rex Trading Center during the 70s (hosting three cinemas and a disco-hall), the hotel has now undergone a series of refurbishments that have modernized its interior. The Rex's highlight is, four decades later, none other than its iconic rooftop bar, where the old 'follies' are replaced by new ones, stunningly tempered by one of the city's most romantic sunsets.
141 Nguyen Hue Blvd., District 1, Ho Chi Minh City, Vietnam, +(848) 38292185.
Majestic Hotel
This 1925 French heirloom on No. 1 Dong Khoi Street majestically opens to breezy and busy riverside views, somewhat irrationally blending colonial chic with Ho Chi Minh City's contemporary floating frenzy. Stripped of its heavier period features, the Majestic still holds plenty of French poise in its rooms, like the signature parquet floors. Just make sure your room comes with a view, as in Ho Chi Minh City windowless accommodation is pretty common. The terrace of Breeze Sky Bar and M. Bar offer magnificent views of the river and city skyline, complemented by the Cyclo restaurant's fine dining and local entertainment.
1 Dong Khoi Street, District 1, Ho Chi Minh City, Vietnam, +(848) 38295.
Grand Hotel Saigon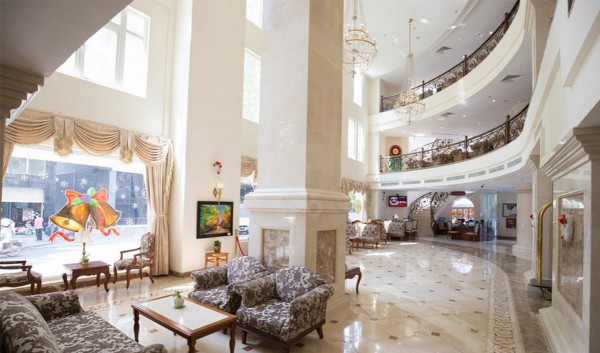 Despite its name, the Grand Hotel might be a less conspicuous star of the French era Saigon, but this 1930s colonial beauty on the historic Dong Khoi Street has an exterior every bit as impressive as the best of them. Divided historically and aesthetically between the new and old wing, it is better to opt for one of the spacious original rooms with parquet floors and French windows in order to relive the memories of this colonial-era legend. It will cost you slightly more, but for the large part of the year the rooms are still reasonably priced. Among the rather flat modern additions, timeless details like the lobby elevator open a window to the past. An atmospheric swimming pool and a central courtyard also do their bit to complete the picture.
41-7 Dong Khoi Street, District 1, Ho Chi Minh City, Vietnam, +(848) 39155555.
5 CHEAP HOTELS IN HO CHI MINH FOR UNDER $50
This list of the best hotels in Ho Chi Minh for less than US$50 has been voted for by thousands of guests so you can rest assured that all of the hotels deliver what they claim. Guestrooms might not come with a personal butler, but customer service is friendly and efficient, while guestrooms are clean and comfortable. If you are coming to Ho Chi Minh to explore the city, you don't really need more than that. These hotels under US$50 in Ho Chi Minh are spread out around the city so you can choose between the historical and shopping centre of District 1, the backpacker neighbourhood in District 5 or even close to the riverside. The excellent customer satisfaction rating for each of these hotels is proof that they are among the best that money can buy.
Victory Saigon Hotel: 3 stars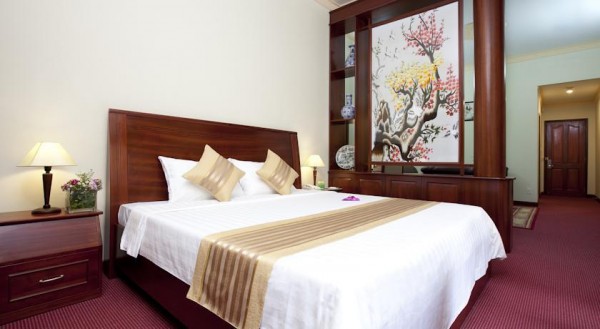 Victory Saigon Hotel is just 4 mi (6.5 km) from the airport and offers a shuttle (available on request) for VND 700000 per vehicle one way. You can indulge in hot stone massages, body treatments, or mani/pedis, and Victory restaurant serves breakfast, lunch, and dinner. An outdoor pool and a fitness center are other highlights, and rooms offer up nice touches like bathrobes and slippers.
Ben Thanh Boutique Hotel: 3 stars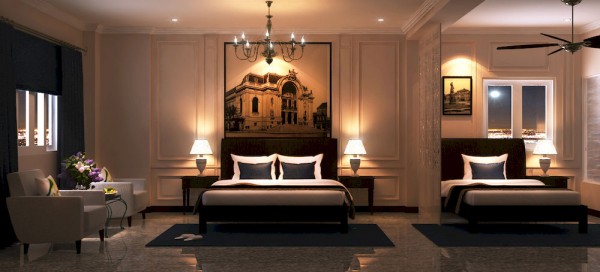 Ben Thanh Boutique Hotel is just 4.8 mi (7.7 km) from the airport and offers a shuttle (available 24 hours) for VND 460000 per vehicle one way. Guests indulge in spa services, then grab a bite to eat at the restaurant. Rooms at this Art Deco hotel get the details right with nice touches like Frette Italian sheets, premium bedding, and slippers.
One World Hotel: 3 stars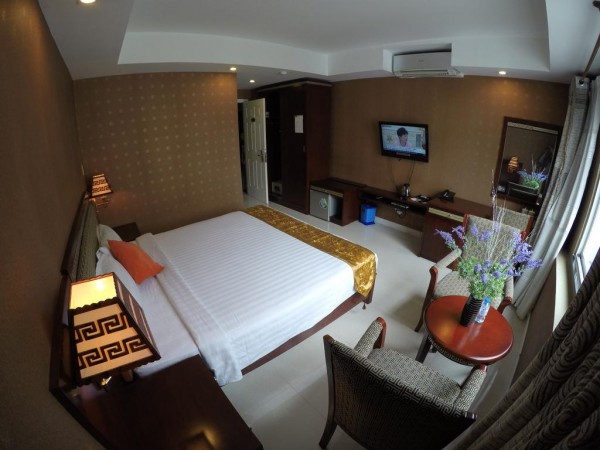 One World Hotel is a great choice for a stay in Ho Chi Minh City.Guests will have free perks like breakfast, WiFi, and self parking.All rooms feature minibars and room service.
A&EM Hotel – Hai Ba Trung: 3 stars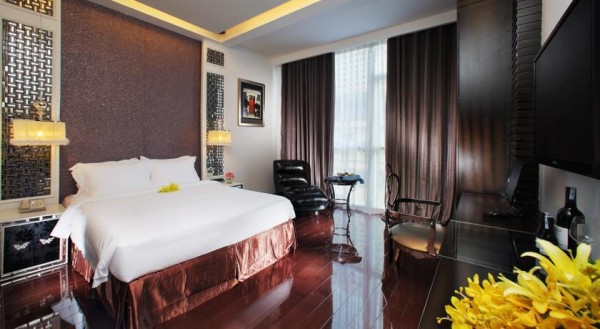 A great choice for a stay in Ho Chi Minh City, A&EM Hotel – Hai Ba Trung is just 4.8 mi (7.7 km) from the airport. Guests can visit the fitness center for a workout or grab a bite to eat at A&Em Restaurant, which serves breakfast, lunch, and dinner.LCD TVs, minibars, and room service are offered in all rooms.
A&EM Hotel 8A Thai Van Lung: 3 stars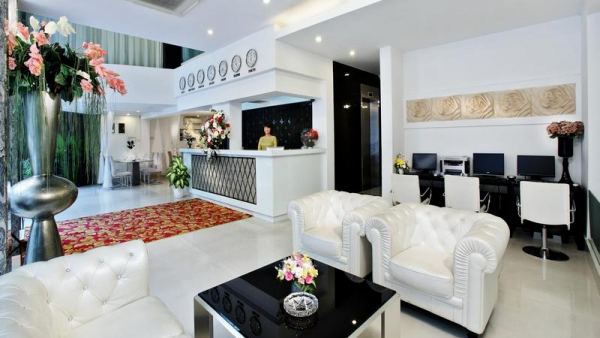 A &Em Hotel 8A is located on Thai Van Lung Street in Ho Chi Minh City, just 20 minutes from the international airport. Guests can find many things to do in the area like visiting the City Hall Square, the Saigon Central Post Office, or the Opera House. They can also visit the Parkson Plaza or the Saigon Tax Trade Centre, or Tao Dan Park for leisure. With an airport shuttle, there is no need for guests to worry about getting lost, and the tour desk will help with planning events. A restaurant (serving only breakfast) and a bar are located on-site. A business centre with a computer station are useful for professional travelers and laundry service is available for all guests.