With the mission of helping Vietnamese people better oral health care every day with affordability, Kim Dental has always strived, improved quality and expertise. In addition, Kim Dental has continually expanded its base to launch the top chain of dental systems in Vietnam, providing optimal results, safety, satisfying all customers when come to examination and treatment.
The best system in Vietnam
Kim Dental has grown, covering many provinces and cities nationwide such as Hanoi and Ho Chi Minh City, Dong Nai, Tien Giang, Vung Tau, etc. and continuously develop and expand more branches to help customers easily access international standard oral care services in the country.
The clinics are located on the main roads in the cities to help customers visit the most convenient. All clinics are clean and luxurious, working through noon, helping to save the most time for customers.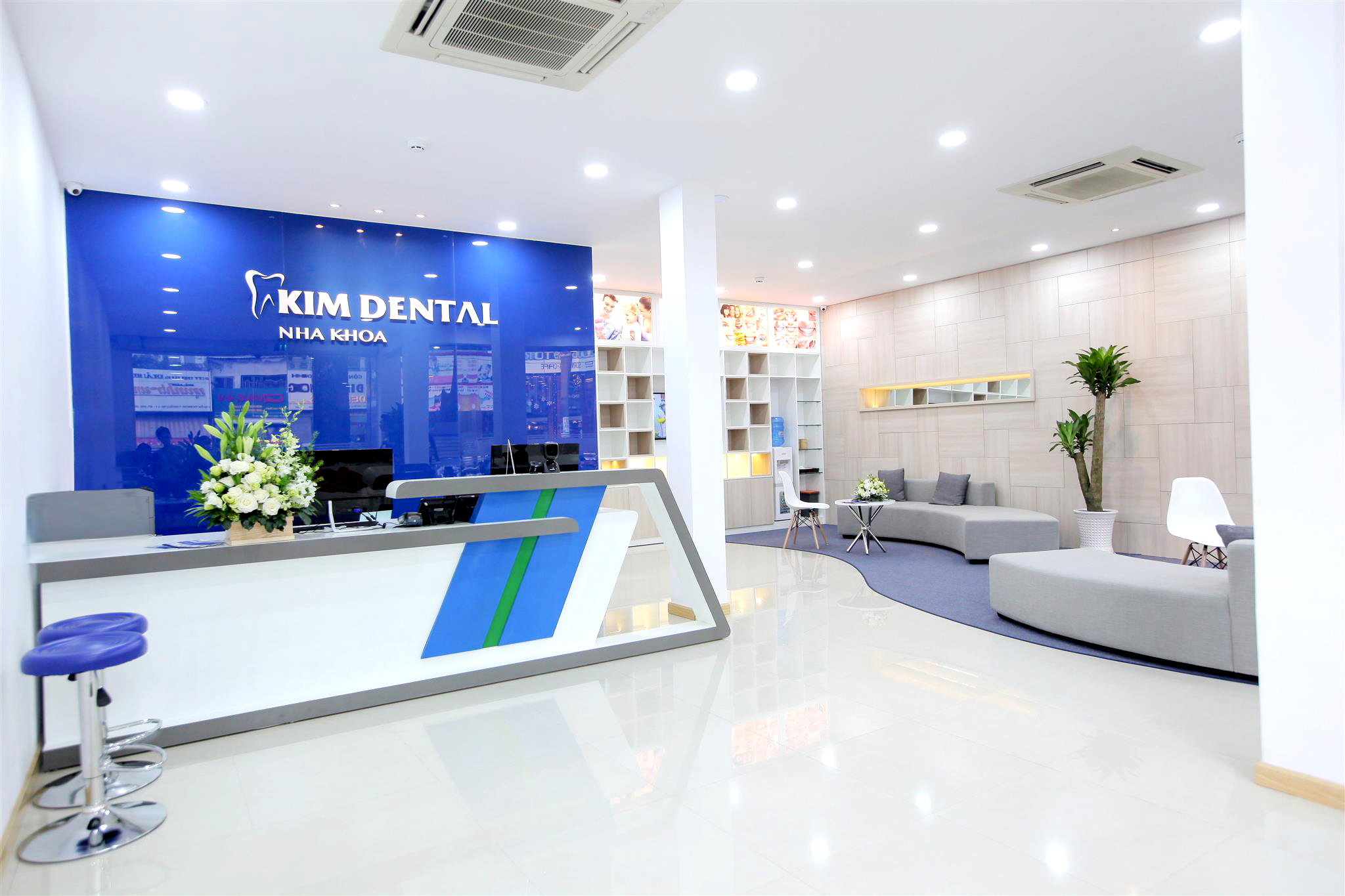 Kim Dental clinics stand out with luxurious blue
Ensure sterile dental prevention
Kim Dental special attention to sterile factors, to ensure safety and efficiency and avoid cross-contamination for customers. This is demonstrated by the fact that each dental chair is 1 room, each customer will arrange a separate room and each customer is 1 set of hand tools, separate kits. At the same time, Kim Dental also pioneered the construction of a central sterile room - steaming instruments of color indicator, date of steaming tools.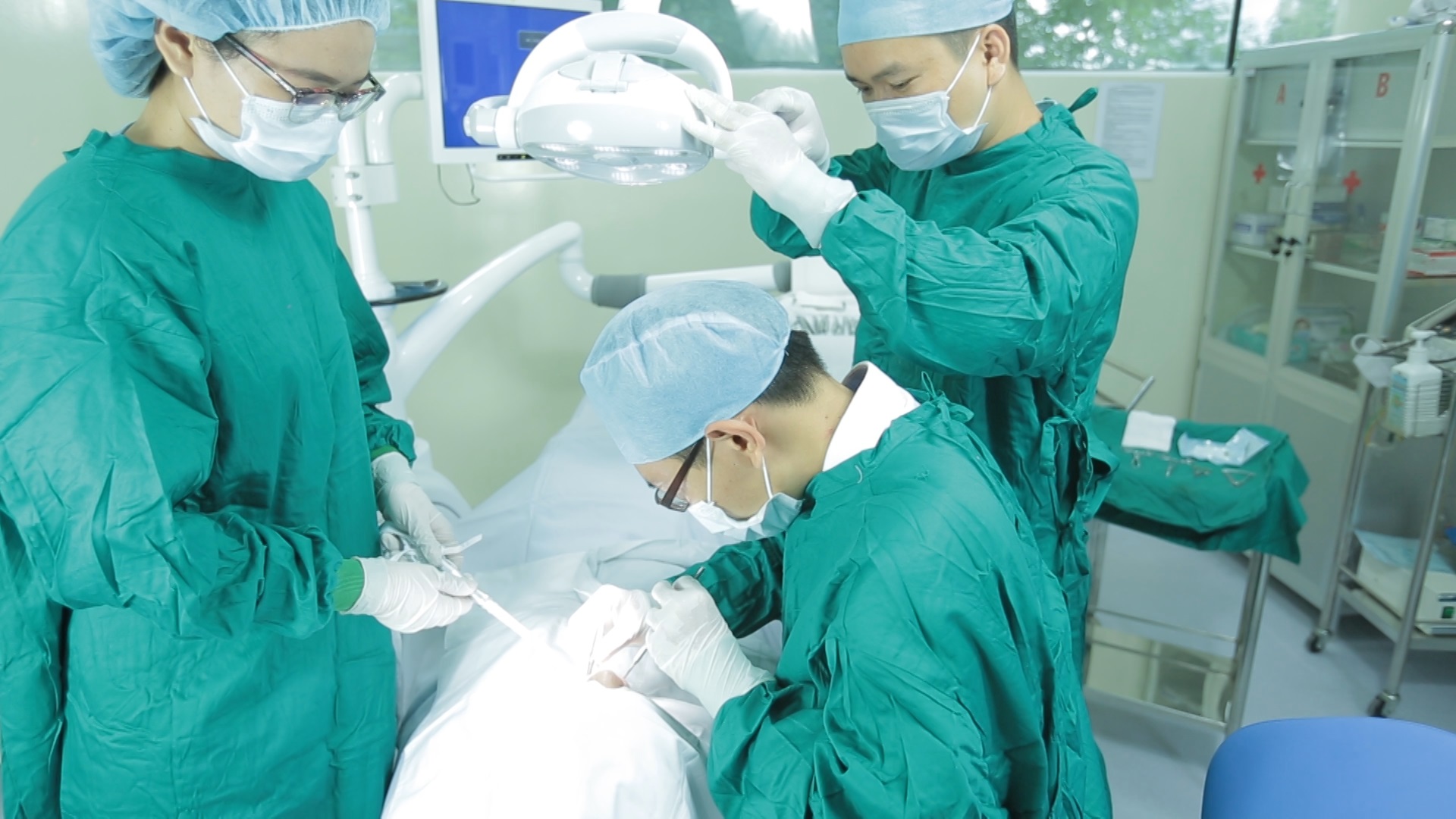 Customers completely assurance with absolute sterile clinics
Top advanced machinery system
Machine equipment is one of Kim Dental's outstanding strengths that very few dentists can overcome. In order to take care of the oral health, the best treatment and restoration of dentomaxillofacial for the customers, the system has directly imported hundreds of modern equipment and machines from reputable dental corporations in the world such as: X-ray Conebeam CT 3D, Panorex – Cephalometric machine, porcelain design technology CAD / CAM 3D, 3D facial jaw printer, analysis software Simplant 3D, 3D VCeph technology, Brite Smile whitening machine...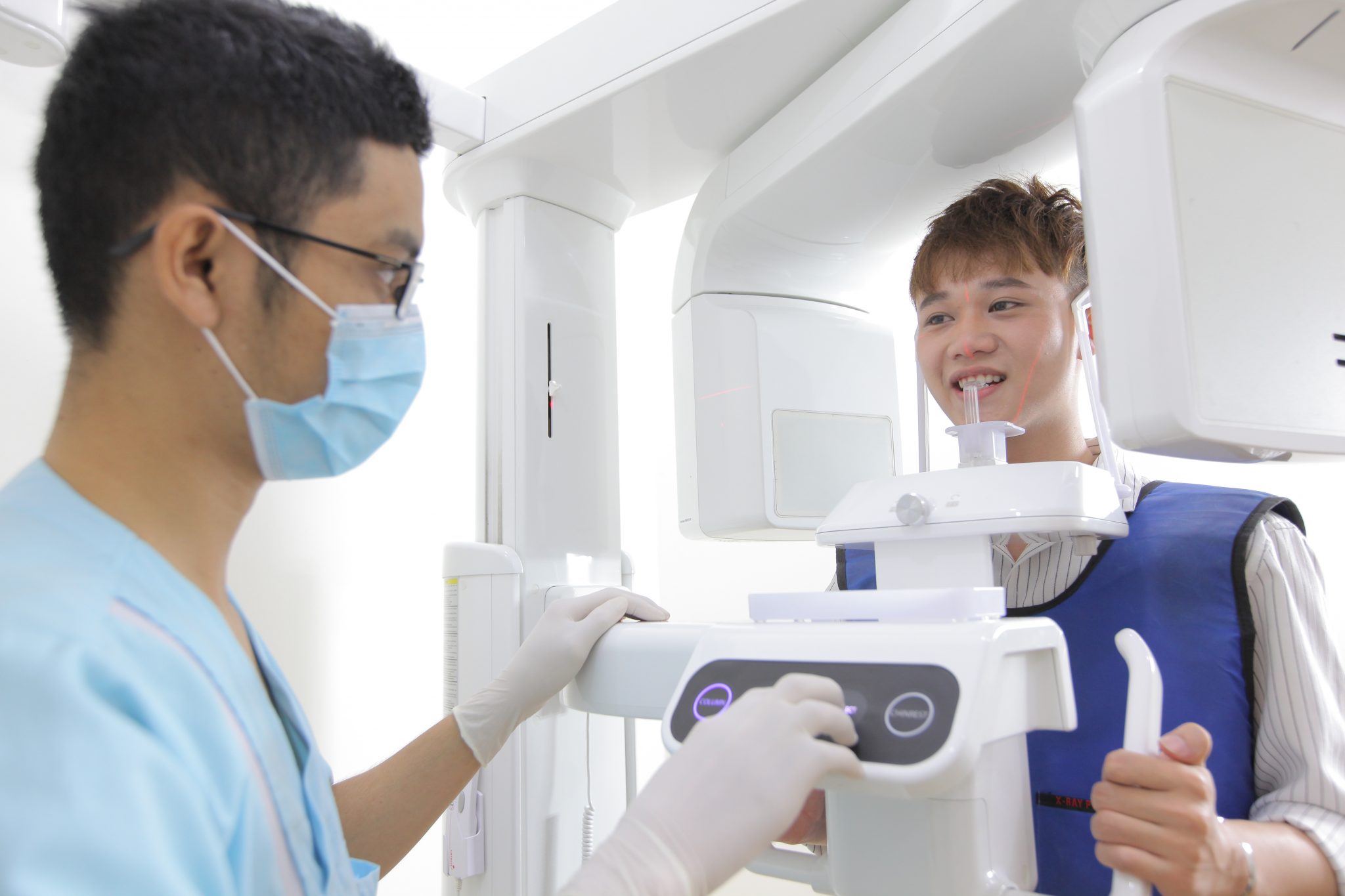 X-ray Panorex machine is used in implant dental implant, wisdom tooth extraction, braces, jaw surgery
Good professional doctors
Kim Dental association more than 150 doctors with good qualifications, many years of experience, graduated from dental jaw at nation and international, have studied and practiced for many years in countries with the most developed dental foundations in the world. With strong professional knowledge and skillful hands, dedicated to the profession, always applying international standard procedures, doctors always bring the best results to customers.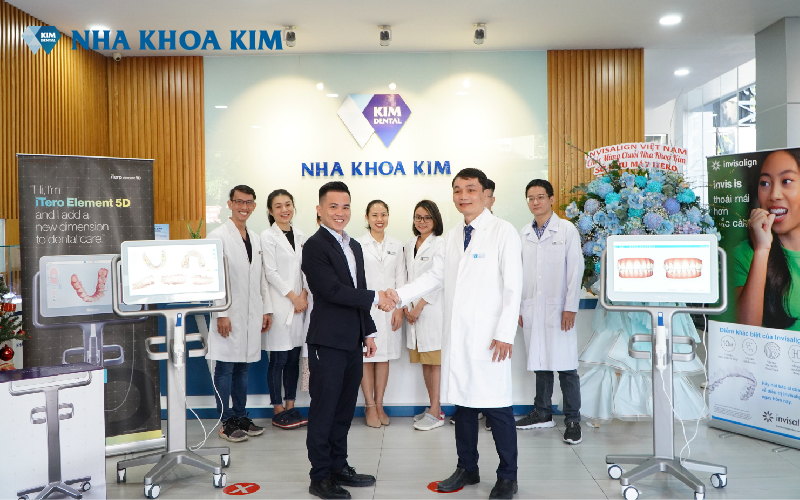 Kim Dental gathering a team of good and dedicated doctors
Kim Dental has 300 professional and professionally trained nurses and assistants. When coming to us, each customer will be examined, consulted and treated directly by a doctor and a team of dental assistants who are responsible for supporting, following the doctor's orders.
Cooperate with doctors from Korea University, Canada, and the US on professional training for Vietnamese doctors in particular and some other countries. Gradually change Vietnam's perspective on the world.
Dental services diversity
Kim Dental implements routine and standard dental services, treatment, the world's newest modern facial and maxillofacial restoration and cosmetic such as: implant, braces - orthodontic, cosmetic porcelain, treatment of gingival laughter, jaw surgery to lift lobe, painless teeth extraction, whitening, shaving and polishing, fillings decay tooth, Endodontic treatment, treatment of periodontitis, creating mouth cleft, attaching stone to teeth, making rabbit teeth, children's dentistry, etc. help comprehensive care of dental health for domestic and foreign customers.
At Kim Dental, dental services are applied according to international standard procedures, strictly complying with regulations of health authorities from the stage of examination, consultation, film shooting, to treatment. Thus, the problems of customers will be resolved quickly, best, the most professionally, creating high satisfaction in service quality.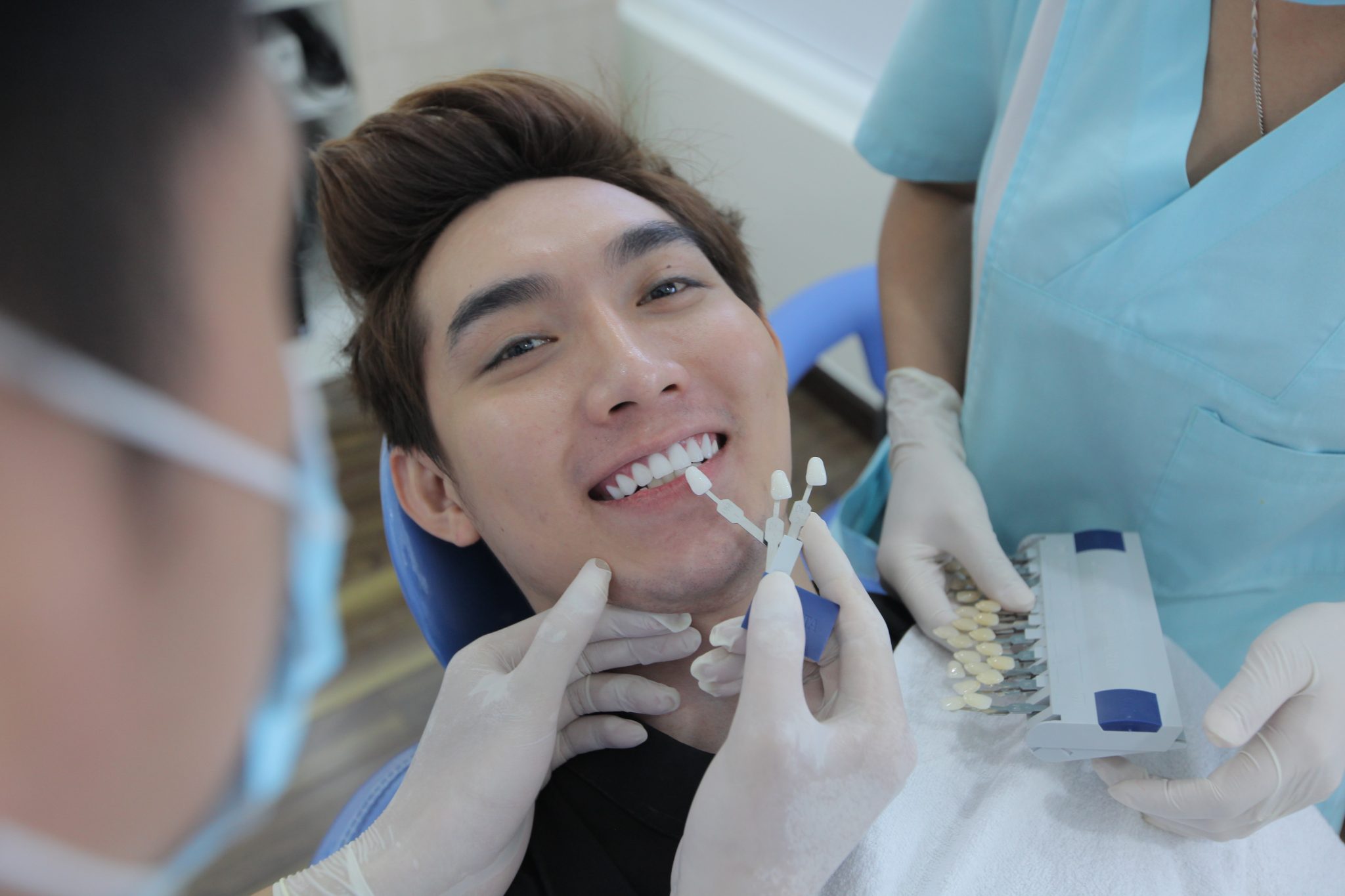 Kim Dental fully implements the needs of dental treatment, prosthetic and dentomaxillofacial cosmetic.
Affordability
Kim Dental treated non-segmented patients, incurred no costs during the treatment process, to balance the medical costs with the average income of Vietnamese people. At the same time, wishing to affirm the quality of professional, reputable and sustainable services and always put the interests of customers first, Kim Dental also implements long-term service warranty for customers help customers feel assured of treatment.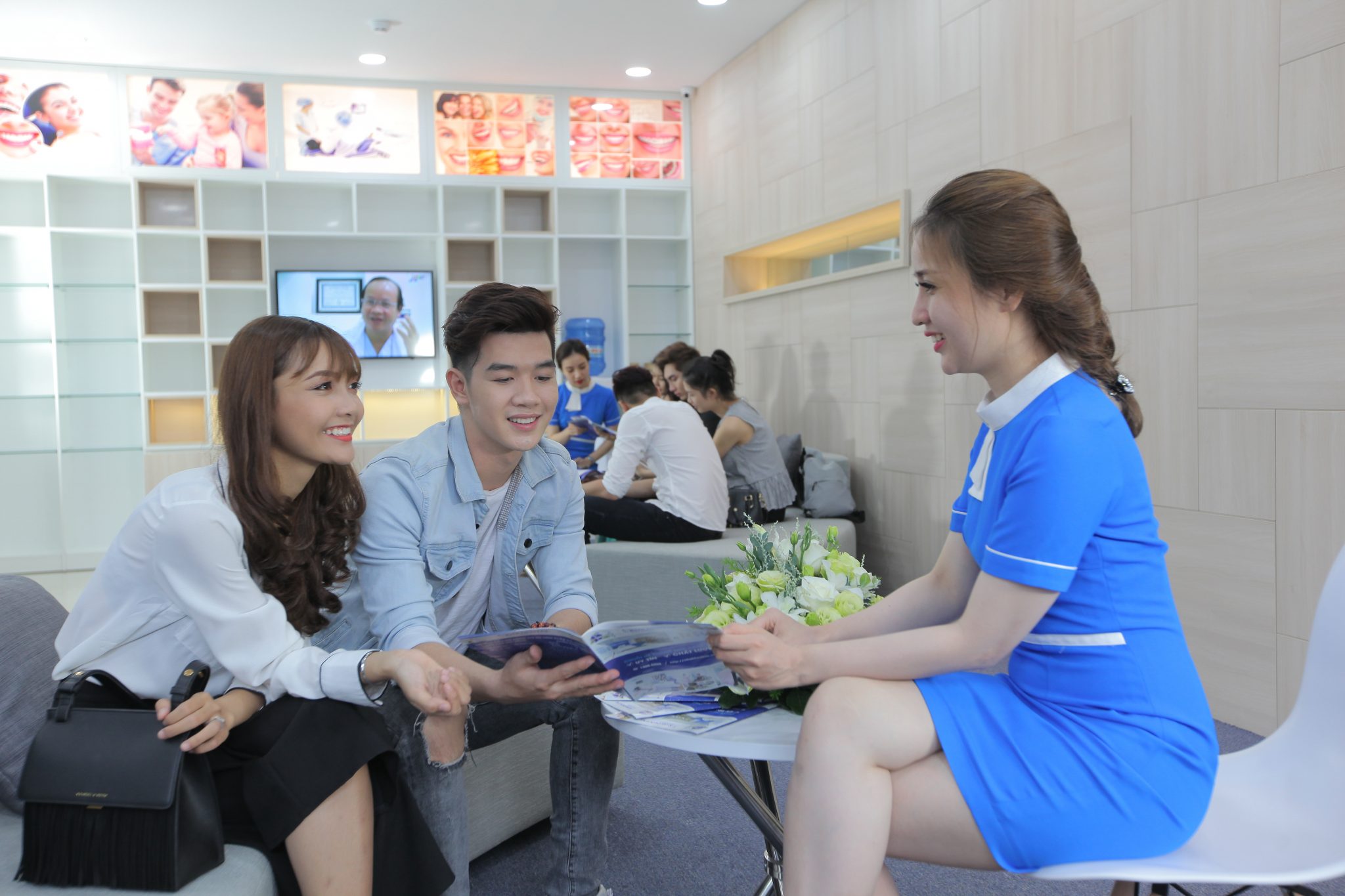 Dental Kim always puts the interests of the customer first
In addition, Kim Dental has the honor to become one of the few dental centers selected by famous insurance companies in domestic and international, to let customers have insurance package under the insurance program Care Plus believes and uses the service.
With advantages as spacious infrastructure, large scale, standard, the most modern equipment and machinery, skilled specialist doctors, affordability, Kim Dental is a reliable choice to take care of your smile.