A dental implant is an artificial tooth root that is placed into your jaw to hold a replacement tooth or bridge. Dental implant may be an option for people who have lost a tooth or teeth due to periodontal disease, an injury, or some other reason.
What are dental implant?
Dental implant are an option for replacing missing or badly diseased teeth. A dental implant offers comfort and stability and, by virtue of the artificial tooth it supports, is a restoration that is the closest thing to a natural tooth. Implant is manufactured "anchors" that look like cylinders or screws. They are artificial replacements for natural tooth roots. Implant is used in upper and lower jaws. They are made of titanium and other materials that are well-suited to the human body. They attach to the jawbone and gum tissue to become a stable base for one or more custom artificial replacement teeth, called dental crowns.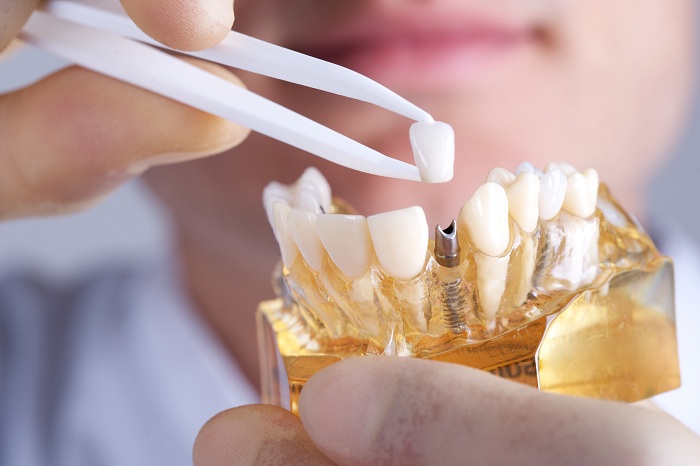 Dental implant are a safe and effective method of dental implantation
Types of dental implant: 
Dental implant have been used for several decades. Patients of all ages have chosen dental implant to replace a single tooth or several teeth or to support partial or full dentures. It's no surprise.
Endosteal (in the bone): This is the most commonly used type of implant. The various types include screws, cylinders or blades surgically placed into the jawbone. Each implant holds one or more prosthetic teeth. This type of implant is generally used as an alternative for patients with bridges or removable dentures.
Subperiosteal (on the bone): These are placed on top of the jaw with the metal framework's posts protruding through the gum to hold the prosthesis. These types of implant are used for patients who are unable to wear conventional dentures and who have minimal bone height.
What is a dental implant procedure like? 
This procedure is a team effort between you, your dentist and your periodontist. Your periodontist and dentist will consult with you to determine where and how your implant should be placed. Depending on your specific condition and the type of implant chosen, your periodontist will create a treatment plan tailored to meet your needs.
Replacing a single tooth: If you are missing a single tooth, one implant and a crown can replace it.
Replacing several teeth: If you are missing several teeth, implant-supported bridges can replace them.
Replacing all of your teeth: If you are missing all of your teeth, an implant-supported full bridge or full denture can replace them.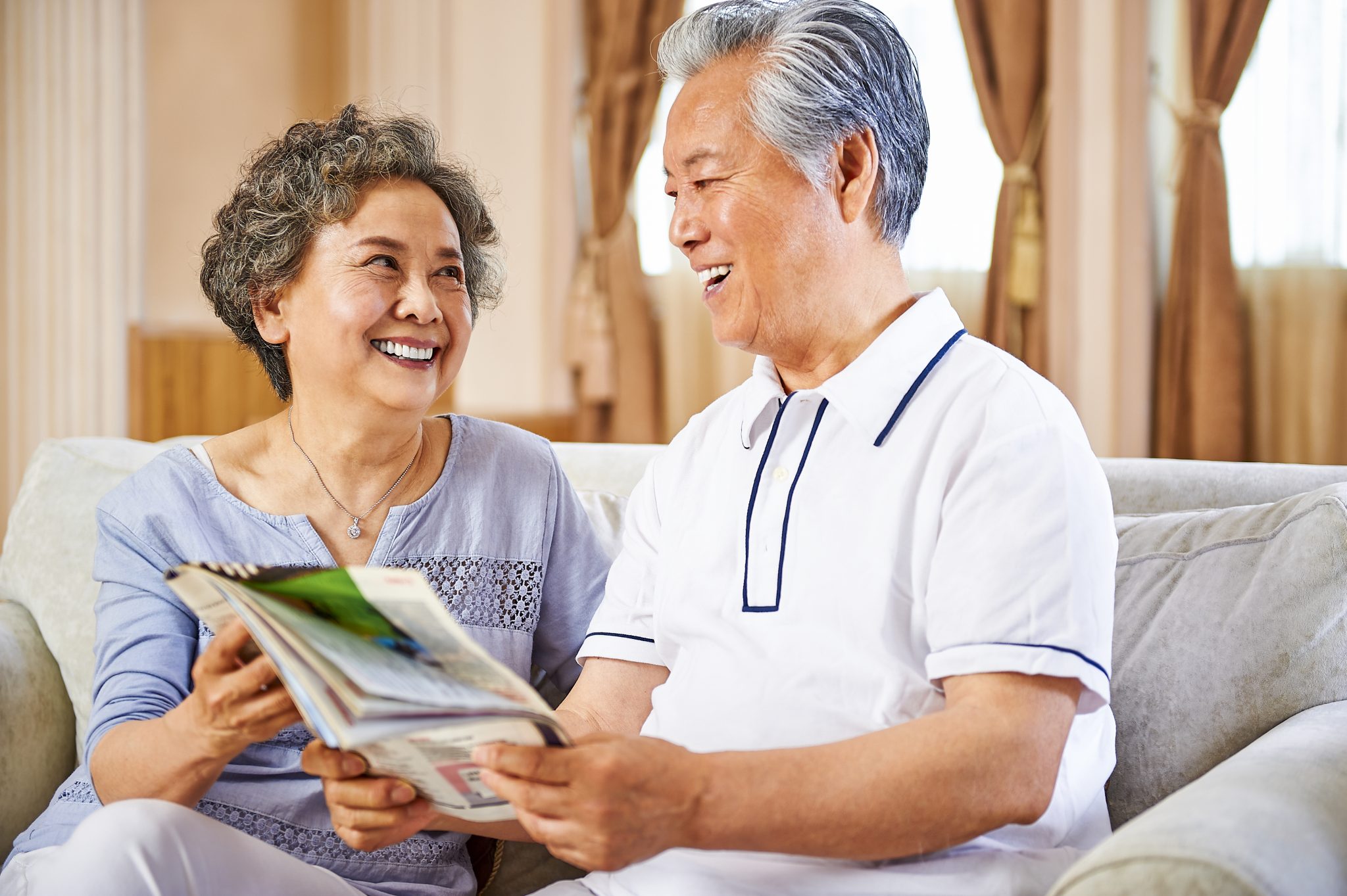 If you are missing a single tooth, one implant and a crown can replace it
Sinus Augmentation: A key to implant success is the quantity and quality of the bone where the implant is to be placed. The upper back jaw has traditionally been one of the most difficult areas to successfully place dental implants due to insufficient bone quantity and quality and the close proximity to the sinus. Sinus augmentation can help correct this problem by raising the sinus floor and developing bone for the placement of dental implants.
Ridge Modification: Deformities in the upper or lower jaw can leave you with inadequate bone in which to place dental implant. To correct the problem, the gum is lifted away from the ridge to expose the bony defect. The defect is then filled with bone or bone substitute to build up the ridge. Ridge modification has been shown to greatly improve appearance and increase your chances for successful implant that can last for years to come.
 How is Implant done?
Step 1: Checking-up teeth situation & Taking X-Rays films:
– Doctors do overall health examination, dental check-ups to determine whether an implant is a viable option .
– Taking a CT Cone-beam and Determining the exact size, length, depth and width of jaws are suitable for Implant or not … thereby planning effective treatment, ensuring safety for customers.
Step 2: Bone analysis and implant placement assumptions on Simplant software:
  Basing on the results of X-Rays films, the doctors will analyze the structure of the jaw bone is suitable for implant grafts or not , whether to lift the sinus or bone graft or not, the amount of bone grafts, where is the best location for Implant replacement. The doctors also use Simplant software to assume implant location, which makes the surgery to be more accurate, faster and safer.  

Step 3: Making treatment plan
Doctor will takes impression. Next, doctor plans treatment process includes: time, the cost, The number and the position of bone grafts, the sinus lift… and discuss with customer. At the same time, the doctor also explains treatment details and procedures to the client to agree on a final treatment plan to set customer's mind at rest.
Step 4: Implant surgery  
- Doctors will perform minor surgery to place the implant into the bone.
- In certain cases such as patients with long-term tooth loss or poor bone quality, etc., adjunctive surgical procedures such as bone grafting or sinus augmentation might be performed as separate procedures or at the same time as the implant placement procedures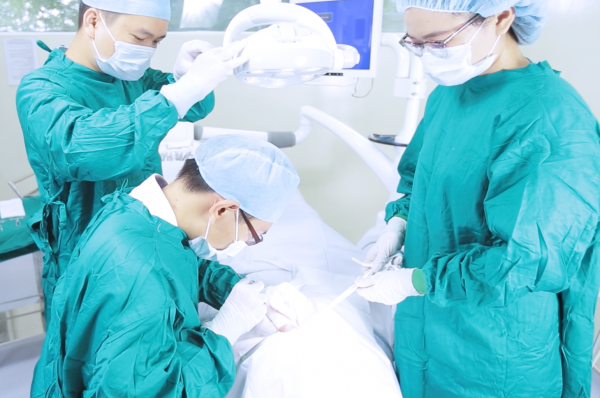 Implant surgery room at Kim Dental
-First, Doctor clean your teeth, anesthetize , remove your gums and drill on the jaw bone and place implant. At Kim Dental, if your jaw bone structure is good, it can be restored to porcelain teeth immediately and complete surgery in day to save your time.
– For weak jaw bone, you have to wait for 3 to 6 months to be restored and placed implant . To ensure the aesthetic for the client, a temporary crown or denture will be placed right after the surgery to allow normal chewing activities. During the time for implant and bones grow completely
Step 5: Design pocerlain teeth  
The doctor performs abutment placement on the implant, then takes the impression and sends the sample to Labo. Here, using CAD/CAM technology, technicians design and manufacture the porcelain teeth with the most advanced to ensure beautiful teeth, teeth color to satisfied client.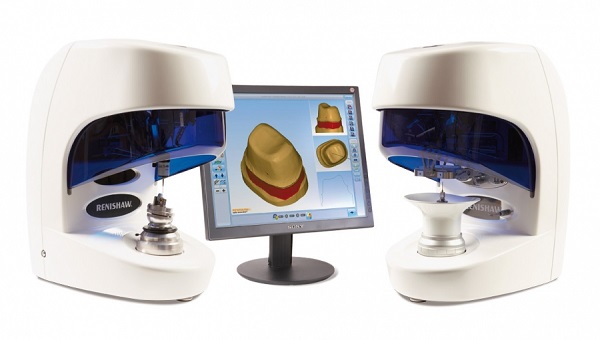 Using CAD/CAM technology, technicians design and manufacture the porcelain teeth with the most advanced to ensure beautiful teeth
Step 6: Restore porcelain teeth on the implant
Doctor will perform a fixed porcelain teeth on implant and complete implant placement. The doctor will schedule a follow-up visit for to check your dental condition and instructs proper care with your teeth.
After Implant placement :
Do not disturb the wound.
Avoid rinsing, spitting or touching the wound on the day of surgery.
Bleeding is normal for 24 hours.
Swelling is a normal occurence after surgery. To minimize Swelling, aplly the ice bag on the cheek in the area of surgery.
Drinking plenty of fluids, avoid hot liquid and hot food. Eating soft food
Who is an implant candidate?
If you're interested in replacing a missing tooth or teeth, dental implants may be an option for you. Most people are good candidates for implant. A good candidate should have the following:
Healthy gums
Enough bone to anchor the implants in the jaw — Some people who have lost bone in their jaw still can get implant, but first the bone must be rebuilt using special procedures.
A commitment to taking very good care of the implanted teeth and surrounding gums — Daily brushing and flossing are essential. Regular visits to the dentist for follow-up are also important.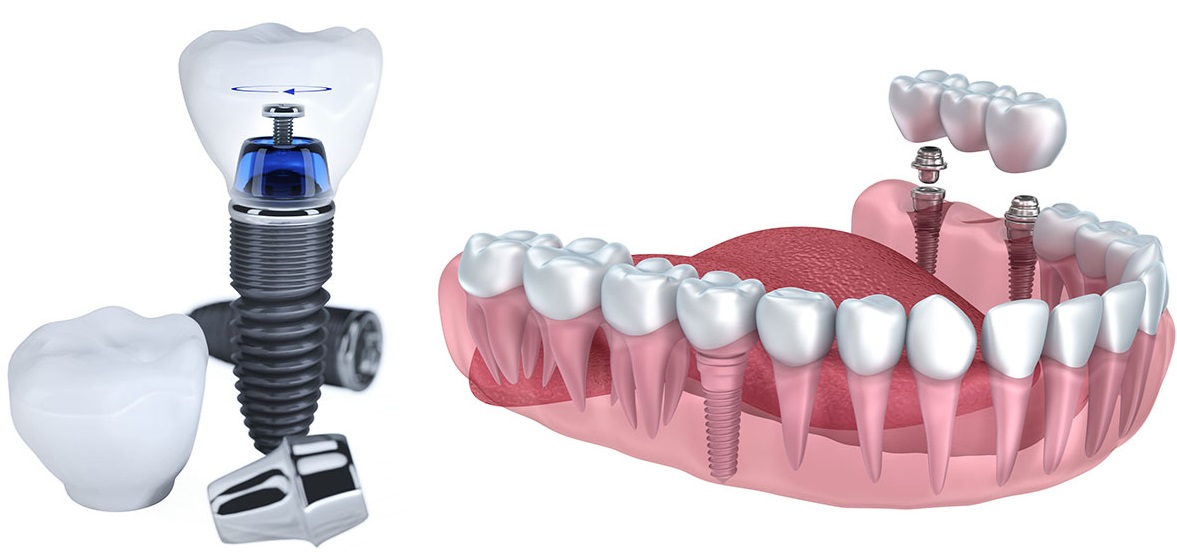 A good candidate should have the enough bone to anchor the implants in the jaw
Some people may not be good candidates for implant. They include:
Young people whose jawbones have not stopped growing
Pregnant women
Heavy smokers — Smoking hinders healing in the mouth. It can reduce the likelihood of a successful implant. Alcohol or substance abusers who are not prepared to follow the dentist's instructions after placement of the implant, such as no smoking, and returning for follow-up. They also may be less likely to take good care of their teeth and gums.
People who have received high-dose radiation treatment of the head or neck
People with chronic diseases or systemic problems, including:
+ Uncontrolled diabetes
+ Connective-tissue diseases
+ Hemophilia
+ Significant immune deficiencies
You still may be a good candidate for implant even if you have one of these conditions. It depends on the extent and severity of the condition.
People who take certain medicines, such as steroids or drugs that suppress the immune system
People who severely grind or clench their teeth — These habits can place too much pressure on the implant and increase the risk of failure.
Your dentist can evaluate you to see if you would be a good candidate for implant.
What are the advantages of dental implants?
There are many advantages to dental implant, including:
+ Improved appearance. Dental implants look and feel like your own teeth. And because they are designed to fuse with bone, they become permanent.
+  Improved speech. With poor-fitting dentures, the teeth can slip within the mouth causing you to mumble or slur your words.
+  Dental implant allow you to speak without the worry that teeth might slip.
+  Improved comfort. Because they become part of you, implants eliminate the discomfort of removable dentures.
+  Easier eating. Sliding dentures can make chewing difficult. Dental implant function like your own teeth, allowing you to eat your favorite foods with confidence and without pain.
Improved self-esteem. Dental implant can give you back your smile and help you feel better about yourself.
+  Improved oral health. Dental implant don't require reducing other teeth, as a tooth-supported bridge does. Because nearby teeth are not altered to support the implant, more of your own teeth are left intact, improving long-term oral health. Individual implants also allow easier access between teeth, improving oral hygiene.
+  Durability. Implant is very durable and will last many years. With good care, many implants last a lifetime. Convenience. Removable dentures are just that; removable. Dental implant eliminate the embarrassing inconvenience of removing dentures, as well as the need for messy adhesives to keep them in place.
Are dental implants safe?
Proven safe and effective at replacing missing teeth, contemporary dental implant have been in use for more than 30 years.
Dental implant is typically made of titanium, a biocompatible material that is accepted by the body and serves as a strong and sturdy foundation for replacement teeth. Your natural bone locks the implant into place by fusing, or attaching itself, to the implant. This process, known as osseointegration, gives teeth replaced using implant the stability and strength to support replacement teeth, withstand daily use, and function like regular teeth.
Dental implant surgery is one of the safest and most predictable procedures in dentistry when performed by a trained and experienced dental implant dentist. A dental implant is the strongest device available to support replacement teeth, and it allows your replacement teeth to feel, look and work naturally. In addition, dental implants are the only restoration method that stimulates your natural bone underneath the missing tooth.
Kim Dental – Addresses effective and safe tooth implant
Dental implant have revolutionized the way we restore lost teeth. There are many brands of dental implant but not all deliver the same quality and predictability to the patient. Kim Dental uses only the highest quality components engineered to deliver the best and lasting result to the patient.
Kim Dental was one of the first dental clinic in Vietnam to offer Dental Implant for our patients, 12 years ago with well trained surgeon and exclusively with high quality implant system from Europe and USA.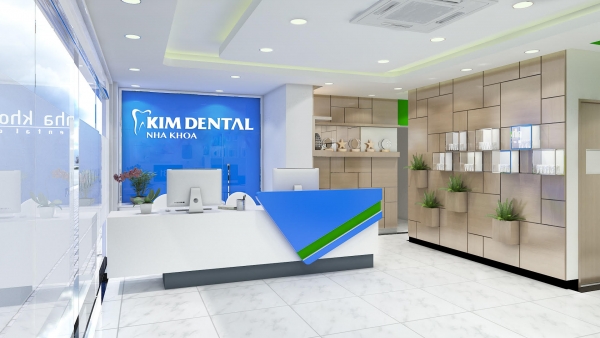 Kim Dental Clinic
At Kim Dental, we have a dedicated surgery room for patients with any invasive surgical procedure ( Implant, Bone Graft…). Unlike a traditional dental practice, where each room is used for all procedures, our clinic combines dedicated surgical which help optimize the patient experience.
Having a dedicated operatory for surgeries increases safety for the patients by keeping the environment sterile. Although each operatory is sterilized after every patient visit, a separate room is known to improve the prognosis of surgeries. A dedicated surgical suite is turning an ideal medical environment into a reality.
Our new 3D Dental CT Scan (Cone Beam Technology) goes beyond traditional diagnostics and treatment capabilities by calculating a large volume 3D image set, more than 200 exposures, in a single low-dose 3D scan of 15 seconds or less. Panoramic radiography for general diagnostics of the tooth arch and the jaw. Advanced panoramic radiography for specific diagnostics of the tooth arch, the jaw, maxillary sinuses and temporo-mandibular joints. 3D Dental tomographic slices for detailed morphologic diagnostics of facial bones. Cephalometry for imaging of the skull
Thanks to 3D pre-operative planning dental implant software we will view axial, sagital and coronal images as well as cross-sections and panoramic images. It allow us to do 3D visualization and simulation of your implant placement and/or bone augmentation procedures before the surgery .With dental implant planning software, surprises during surgery is eliminated and give us an extra margin of safety for our patients. 
Many customers perform implant at Kim Dental and achieve satisfactory results as expected: